Welcome to RiversMeet
A warm welcome to RiversMeet - the only community owned and managed sports and leisure facility within the UK.
We are dedicated to making your visit a quality experience enjoyed within the welcoming environment of our modern, spacious facilities and supported by our enthusiastic and committed team.
"RiversMeet - A trust that is always open to new ideas  and a team that listens to you, our valued customer"
Latest News
Tuesday 23rd August - Friday 26th August (Pool only)
Due to essential maintenance the swimming pool only will be closed from Tuesday 23rd August to Friday 26th August.
Please note the rest of the centre will remain open.
The following pool and soft play facilities will be closed due to parties on the following dates:
Swimming Pool
Saturday 20th August, 12:00-13:30, whole pool
Soft Play
Saturday 20th August, 12:00-13:30
Sunday 21st August, 12:00-13:00
Cardio and core, cha samba and Wednesday spinning at 20:15 have all been cancelled
Bootcamp classes will be held on Monday 07:15 - 08:00, Wednesday 07:15 - 08:00 and Friday 07:15 - 8:00 and 19:15 - 20:00
Monday morning Zumba will now be held at 09:30 - 10:30
The Adult Swim Class on Wednesday night will be reintroduced from 14th September, 8-9pm, on a PAYG basis at £5.30.
All classes are now set at a cost of £5.30 per class, with the exception of PAYG Pilates which remains set at £6.50 per person per class.
Thursday evening Pilates will now be run on a PAYG basis only.
The Aquafit class at 12:30 on Wednesday 17th August has had to be cancelled.
Due to our growing swimming school we are looking for Level 1 or Level 2 swimming Instructors to join our team of swimming teachers. We pay Level 1 £10p/h & Level 2 £13.50 p/h. For more info please contact Jennie on 01747 834011 or
Opening hours
Monday - Thursday
07.00 - 22.00
Friday
07.00 - 21.00
Saturday
08.00 - 17.00
Sunday
09.00 - 16.00
Bank Holidays
09.00 - 18.00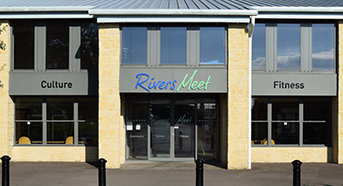 About us
The RiversMeet Sports facility was designed and built for the purpose of community participation. The services on offer reflect our personality and charisma as a forward thinking trust providing top quality facilities for the local population of the Gillingham areas.
The Gillingham Community and Leisure Trust Ltd operate the facility on behalf of the Community as a "not for profit" social enterprise.
Our aims are pure and simple - a trust that meets the needs of the wider Gillingham area and ensures that the facilities remain available to the community for the foreseeable future.