Welcome to RiversMeet
A warm welcome to RiversMeet - the only community owned and managed sports and leisure facility within the UK.
We are dedicated to making your visit a quality experience enjoyed within the welcoming environment of our modern, spacious facilities and supported by our enthusiastic and committed team.
"RiversMeet - A trust that is always open to new ideas  and a team that listens to you, our valued customer"
Latest News
Pick up a list of our price increases from Reception or contact 01747 834013 for further details
We would like to inform you that over the next few of weeks there may be restrictions to parking at the far end of our car park whilst the Town Council start work on expanding the number of parking spaces. We do apologise for any inconvenience this may cause and would ask that you factor this in to your travel time as you may require extra time to find a space or need to park further away.
However, of course, the good news is that once complete, we should have an extra 20 or so spaces for users of the leisure centre and recreation ground and we are sure you will agree that this will make a very positive difference to the centre, particularly during busy periods.
Thank you for your understanding during this time.
New and improved sessions for all the family! Suitable for all ages as there is an inflatable at the shallow end and the deep end of the pool. Sessions at 1.15-2.15pm every Saturday and 10.30-11.45pm every Sunday. Booking is advised to guarantee your place. Please book by calling reception on 01747 834013. Customers using the inflatable in the deep end of the pool must prove there are a competent swimmer by swimming 25 meters (1 length) unaided.
The pool will be closed all day on Wednesday 18th January due to essential maintenance. The rest of the centre will be open as normal and the pool will re-open as normal at 7am on Thursday 19th January. We apologise for any inconvenience caused.
The Swimming Pool will be closed on the following dates:
WHOLE POOL CLOSURE

Saturday 25th March
11:45 - 13:00

Our apologies for any inconvenience.
The Soft Play will be closed on the following dates:
Saturday 25th March
12:00 - 14:00

Saturday 8th April
14:00 - 15:00

Saturday 22nd April
12:00 - 13:00


Our apologies for any inconvenience.
The internationally recognised Royal Lifesaving Society (RLSS UK) National Pool Lifeguard Qualification (NPLQ) is not only a qualification that will train you to become a Pool Lifeguard but can also be a stepping stone into a career within the leisure industry.
The course will run on the following dates / times:
Monday 10th - Friday 14th April 2017 08:00 - 17:00
Due to our growing swimming school we are looking for Level 1 or Level 2 swimming Instructors to join our team of swimming teachers. We pay Level 1 £10p/h & Level 2 £13.50 p/h. For more info please contact Jennie on 01747 834011 or
Opening hours
Monday - Thursday
07.00 - 22.00
Friday
07.00 - 21.00
Saturday
08.00 - 17.00
Sunday
09.00 - 16.00
Bank Holidays
09.00 - 18.00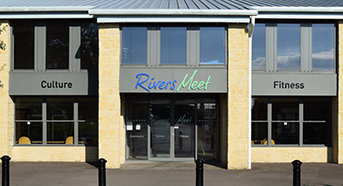 About us
The RiversMeet Sports facility was designed and built for the purpose of community participation. The services on offer reflect our personality and charisma as a forward thinking trust providing top quality facilities for the local population of the Gillingham areas.
The Gillingham Community and Leisure Trust Ltd operate the facility on behalf of the Community as a "not for profit" social enterprise.
Our aims are pure and simple - a trust that meets the needs of the wider Gillingham area and ensures that the facilities remain available to the community for the foreseeable future.