Welcome to RiversMeet
A warm welcome to RiversMeet - the only community owned and managed sports and leisure facility within the UK.
We are dedicated to making your visit a quality experience enjoyed within the welcoming environment of our modern, spacious facilities and supported by our enthusiastic and committed team.
"RiversMeet - A trust that is always open to new ideas  and a team that listens to you, our valued customer"
Opening hours
Monday - Thursday
06.30 - 22.00
Friday
06.30 - 21.00
Saturday
08.00 - 17.00
Sunday
08.00 - 16.00
Bank Holidays
09.00 - 18.00
Last admission 30 mins before closing time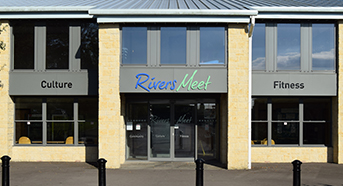 About us
The RiversMeet Sports facility was designed and built for the purpose of community participation. The services on offer reflect our personality and charisma as a forward thinking trust providing top quality facilities for the local population of the Gillingham areas.
The Gillingham Community and Leisure Trust Ltd operate the facility on behalf of the Community as a "not for profit" social enterprise.
Our aims are pure and simple - a trust that meets the needs of the wider Gillingham area and ensures that the facilities remain available to the community for the foreseeable future.
Latest News
Dear Customer,
Unfortunately we have now closed our doors for the foreseeable future under government guidelines. Boris Johnson made the unprecedented announcement ordering all venues to shut their doors as the Government tries to battle the outbreak of Coronavirus.
Please read the following statement from our Chairman of the Board of Trustees and then read the options at the bottom of the message.
Dear Member,
We now need your help, more than ever. If you are considering cancelling or freezing your membership I ask that you think twice, as without support from the community right now there is a real possibility that there will not be a RiversMeet for anyone to come back to once this crisis has run its course. I recognise that this could be a tough decision to make and we wish we didn't have to ask this of you now.
Yours sincerely
Paul Barber
Chairman of the Board of Trustees at Riversmeet
As we are now self-isolating, we will no longer be able to cancel any membership Direct Debits. The options available are:
- To continue to support us and keep your Direct Debit going. No further action is required.
- To freeze your membership for £5.00 a month per person. Please email chantel.whittaker@riversmeetgillingham.org
- To cancel your Direct Debit through online banking or at your local branch.
We do have a Home Workout page set up for the public to join. This can be found on our main Facebook page.
Thank you to all our customers who have supported us this week. We look forward to seeing you all in the future. Remember to look after each other and stay safe.
The RiversMeet Team
A multi-measure package based on a complete overhaul of the heating, pool dosing and air handling systems
Part-funded by
Low Carbon Dorset
as part of the
European Regional Development Fund

Dear Customers,
Because of increasing costs, particularly with regards to the revised minimum/living wage and a 23% increase in electricity costs, we have had to increase activity costs.
We do hope you all understand and appreciate to why we have had to increase most activity prices within the site.
As most of our customer are aware, we receive little financial help for us to manage RiversMeet and rely on your visit with us to maintain the business for the community.
We as a trust have held off the price rise as long as we can but as of April 2020, the following will apply . Click here to view.